4GB SenseCAP M1 LoRaWAN Helium Hotspot Miner - EU868
SenseCAP M1 4GB is an efficient, ready-to-use internal LoRaWAN gateway compatible with the Helium LongFi Network. This product allows you to connect to The People's Network in a few simple steps. SenseCAP M1 allows you to create LoRa applications at a low cost. It also provides access to a wide range of wireless networks and bandwidth for LoRa/LoRaWAN devices. It helps the user connect to The People's Network infrastructure by enabling the benefits of participating in the Helium community.
#stock-now#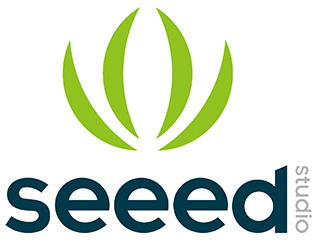 We are official distributor of SenseCAP M1 by SeeedStudio
Free shipping across
whole Europe
Technical support
+ Secure Payment
SENSECAP M1 FEATURES
Quickly create a Helium network in just 6 steps

Based on popular hardware solutions: Raspberry Pi 4B and WM1302 / WM1303 (Semtech SX1302 / SX1303)

Secure and reliable: built-in ECC608 cryptography, high security and reliable connectivity

Automatic OTA updates, no manual operation is needed

Built-in remote diagnostics module, efficient online support

Large microSD memory card with 64GB capacity

Aluminum housing with heat sink and fan ensures efficient cooling of the device


HARDWARE SOLUTIONS
SenseCAP M1 as a LoRaWAN gateway is characterized by its high performance. It is based on the Raspberry Pi 4B and is integrated into the LoRa hub WM1302 / WM1303(Semtech SX1302 / SX1303). It offers a range of many kilometers and at the same time very low power consumption.

SUPPORTED FREQUENCY BANDS AND COMMUNICATION SECURITY
The manufacturer has released the EU868 version with CE certification for the European market. The device has an embedded ECC608 cryptographic chip that provides highly secure authentication and ensures effective SenseCAP M1 protection.
AUTOMATIC UPDATES AND REMOTE DIAGNOSTICS MECHANISM
SenseCAP M1 provides a Docker-based OTA system and software. It enables automatic online updates without the need for any activation or monitoring of their progress. The 64GB microSD card provides ample space for additional upgrade packages. The SenseCAP M1 has a built-in remote diagnostics mechanism that allows online support in case of any problems with the device at the user's request.
EFFICIENT COOLING INCLUDED
SenseCAP M1 is equipped with an aluminum heat sink and cooling fan in an aluminum housing. The use of two types of cooling: passive and active, allows for long and stable operation of the device.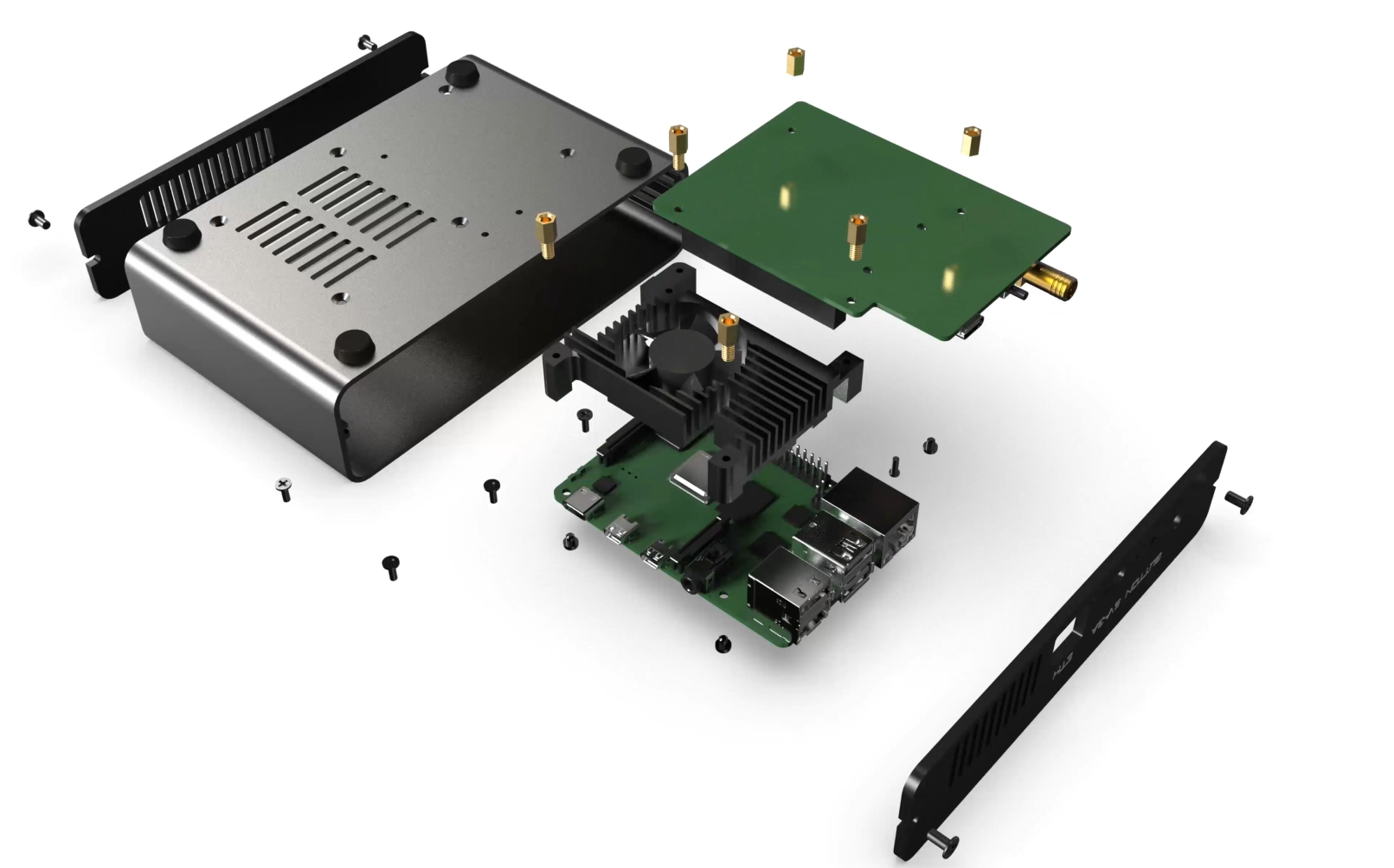 EASY SETUP
SenseCAP M1 is very comfortable to use. Place the device next to a window or attach it to a wall. If several gateways are used, it is recommended to place them 350-400 meters apart to extend the network coverage. SenseCAP M1 is a helium compatible gateway with built-in Bluetooth. It can be easily set up using the Helium app on a smartphone in minutes with 6 simple steps. The SenseCAP M1 supports eWiFi or Ethernet connectivity.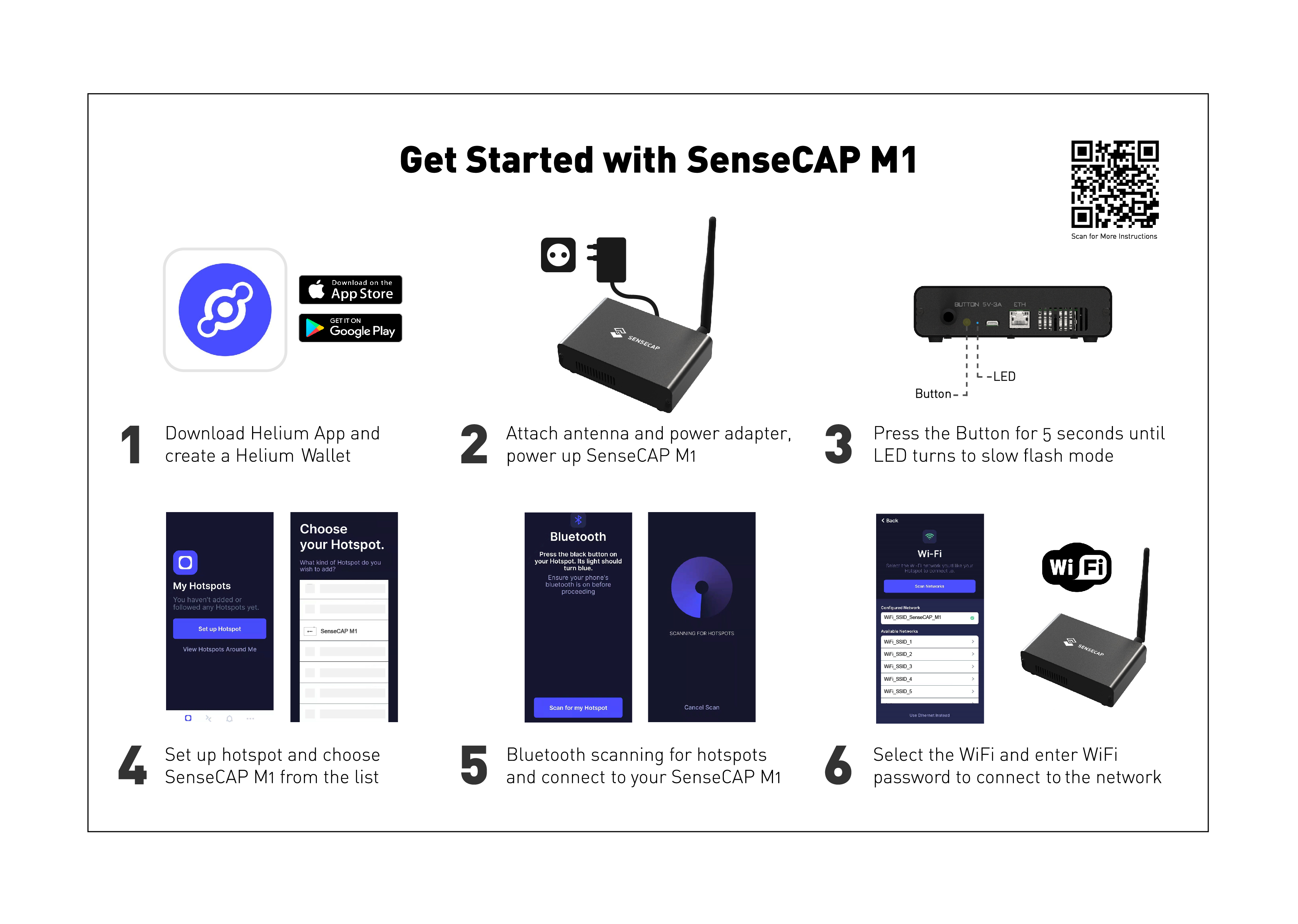 SENSECAP M1 SPECIFICATIONS
Voltage: 5V/3A
Control system: Raspberry Pi 4
Chipset: Broadcom BCM2711 64-bit
Core: Quad-core ARM Cortex-A72
Clock frequency: 1.5 GHz
SD memory card: 64 GB
RAM: 4GB
Frequency: EU868 version: 863 MHz to 870 MHz
Sensitivity: 125 dBm @ 125 kHz / SF7
Transmitter power: up to 26 dBm
EU868 antenna gain: 2.8 dBi
Antenna impedance: 50 ΩAntenna type: omnidirectional
WiFi: IEEE 802.11ac 2.4 GHz and 5.0 GHz wireless network
Bluetooth: Bluetooth 5.0 BLE
LoRaWAN: Class A, C support.
USB type C, RJ45 Ethernet connector, RP-SMA connector for antenna
Operating temperature: 0°C to 50°C
Relative humidity: 0% to 90%
IP rating: IP 20
More information about the manufacturer and the product can be found here:
There is no 14-day return possibility for hotspots already registered on the Helium network, the equipment is then considered as personalised by the user, making it impossible to resell as is.
Related products